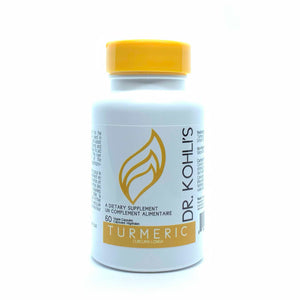 Dr. Kohli's Turmeric capsules provides antioxidants for the maintenance of good health. Traditionally used in Herbal Medicine to help relieve flatulent dyspepsia (carminative) and as a hepatoprotectant/liver protectant, aid digestion, increase bile excretion by the liver and stimulate contraction of the gallbladder.
Medicinal Ingredients (per dose unit) :
Turmeric (Curcuma longa L. (Zingiberaceae), Rhizome) Extract 10:1 250mg
(equivalent to 2.5gr Turmeric).
Caution:
Consult a health care practitioner if you are pregnant; have stomach ulcers or excess stomach acid; gallstones or a bile duct obstruction or if symptoms persist or worsen
60 Vegan Capsules
NPN : 80028261