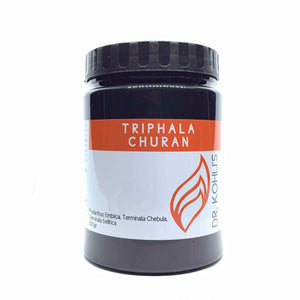 Dr. Kohli's Triphala Churan ( Powder) is an Antioxidant. It is traditionally used to help relieve cough, as an eye tonic and as a digestive tonic to promote digestion. Triphala churan is also used for the relief of occasional constipation and to help relieve colic pain and flatulence.

Medicinal Ingredients (per dose unit)

Amla (Phyllanthus emblica, Fruit) .......................... 1 Gram
Harad (Terminalia chebula, Fruit) .......................... 1 Gram
Bohera (Terminalia bellirica, Fruit) .......................... 1 Gram

Directions:
0.5 - 1 Tablespoon 1 - 2 times per day. Take 2 hours before or after taking other medications or natural health products.

200 gms
Cautions:
When used as a laxative, allow at least 6 to 12 hours for effect to occur and discontinue use after effect; for occasional use only and consult a health care practitioner for use beyond 7 days.Consult a health care practitioner prior to use if you are pregnant or breastfeeding; if you have abdominal pain, nausea, fever or vomiting. Reduce dose or discontinue use if you experience abdominal pain, cramps, spasms and/or diarrhea
while using this product.