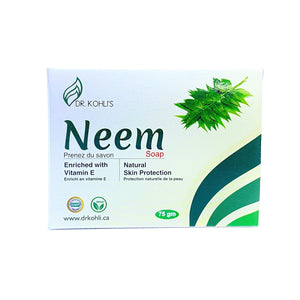 Dr Kohli's Neem Soap Bar

Nourish your skin with the power of Neem along with 12 beneficial herbs for a natural and eco-friendly solution for healthy skin! Enjoy a deep cleanse while nourishing your skin with essential vitamins and minerals with Dr. Kohli's Neem+ soap bar.

Ingredients:

Aloe (Aloe barbadensis) Leaf Juice.
Manjistha (Rubia cordifolia) Root.
Neem (Azadirachta indica) Seed Oil.
Tulsi (Ocimum tenuiflorum) Seed Oil.
Turmeric (Curcuma longa) Rhizome.
Daru Turmeric (Berberis aristata) Stem.
Olive (Olea europaea) Seed Oil.
Coconut (Cocus nucifera) Endocarp Oil.
Lime Grass (Cymbopogon citratus) Oil.
Vitamin E.
Sodium salt palm fatty acid.
Palm kernel fatty acid.