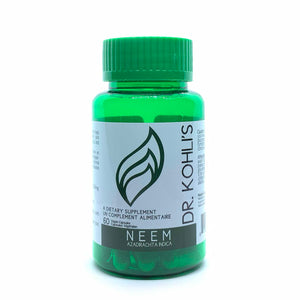 Dr. Kohli's Neem is traditionally used in Ayurveda to help relieve fever, itching associated with skin conditions like eczema and for minor wounds, cuts and burns.
Several research studies indicate neem contains a diverse selection of polyphenols (e.g. tannins, lignins, flavanoids) possessing strong antioxidant, antibacterial, as well as anti-inflammatory and immunomodulatory properties. 
Medicinal Ingredients:
Neem (Azadirachta indica) 200.0 mg (10:1) Dried Herb Equivalent = 2000mg.
Caution: Consult a health care practitioner prior to use if you have diabetes or taking medication to control blood glucose levels; if you have a kidney or liver disorder or if symptoms persist or worsen. Do not use if trying to conceive, pregnant or breast-feeding.
60 Vegan Capsule
NPN: 80078428