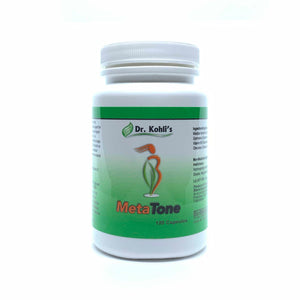 Dr. Kohli's MetaTone is especially formulated to help the body metabolize carbohydrates, fats and proteins and to provide support for healthy glucose metabolism. It is a factor in the maintenance of good health and helps normal growth and development of body.
Ingredients
Malabar tamarind ( Garcinia gutta, Fruit peel) 425 Milligrams (55% HCA)
Gymnema (Gymnema sylvestre, Leaf) 66.7 Milligrams (25% Gymnemic acids)
Vitamin B3 (Niacinamide, Niacinamide, Saccharomyces cerevisiae ) 3.33 Milligrams.
Chromium (Chromium nicotinate) 83.3 Micrograms.
Directions
Take 2 capsule 3 times daily prior to a meal.
Caution
Consult a health care practitioner for use beyond 8 weeks;  if you are pregnant or breastfeeding; diabetic; have kidney disorder, insulin resistance or gastrointestinal lesions
120 Vegan Capsule
NPN : 80077571