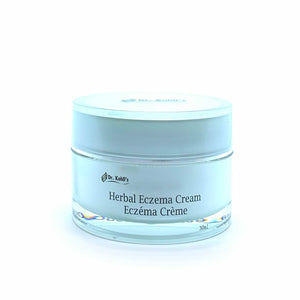 Herbal Eczema Cream is a natural topical treatment that consists of a specially selected natural ingredients to combat eczema and itchy dry skin. Steroid, pesticide and paraben free.
Dr. Kohli's Herbal Eczema Cream uses Bergamot and juniper essential oils as part of aromatherapy for symptomatic relief of eczema/dermatitis. Aloe Vera, Burdock Root, and St. John's Wort, along with aromatic Juniper and Bergamot essential oils contain antibacterial, anti-inflammatory, moisturizing and restorative properties which work together to combat and relieve eczema symptoms, without the use of harsh chemicals.
Ingredients: Aqua, Aloe barbadensis (Aloe Vera), Hypericum perforatum (St. John Wort), Cetearyl alcohol amp; Ceteareth-20, Helianthus annuus (Sunflower oil), Glycerin, Vitellaria paradoxa (Shea butter), Cocos Nucifera (Coconut oil), Glyceryl monostearate, Arctium lappa (Burdock Root), Beeswax, Dimethicone, Juniperus communis (Juniper) essential oil, Citrus bergamia Bergamot essential oil, Simmondsia chinensis (Jojoba) seed oil, Elaeis (Palm oil), Phenoxyethanol, Carbomer, Tocopherol (Vitamin E).
Directions : Apply cream liberally to affected areas 1 to 3 times daily. Consult a health care practitioner if symptoms persist or worsen. Do not use if pregnant or allergic to listed ingredients
Natural. Not tested on animals. Vegan. 
NPN: 80074938