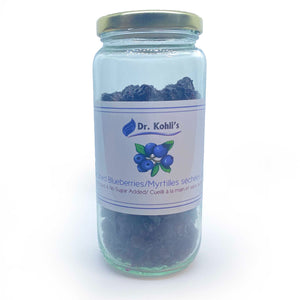 Local BC grown, hand picked, dried blueberries.  Sun-dried in the open - not in oven, for a natural, honest to goodness taste! The blueberries are not sprayed with oil or juice. Note the blueberries may have small stems still attached. All natural!
Blueberries are often referred to as a super fruit due to its nutritional content.
Most people know the benefits of fresh blueberries but the good news is one can enjoy the same benefits with the dried food option as well.  When drying blueberries, the water content is simply removed. What remains is a power-packed treat with antioxidants, fiber, vitamins and minerals.