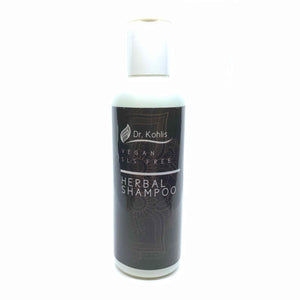 Dr. Kohli's Herbal Shampoo
200ml
Provides the perfect balance of gentle cleansing and light moisturizing. Vegan. SLS (sodium lauryl sulfate) Free. Cruelty Free.
Directions: Apply to wet hair. Lather with gentle massage and rinse.
Ingredients:
Aqua, Cocamidopropyl betaine, Cocodiethanol amide. Aloe vera gel, Turmeric, Pomegranate peel, Glyverine, Azadirechta indica (Neem), Ethulene glycol monostearate, Polyquaetrnium-7, Ocimum sanctum (Tulsi), Green apple, Cucumis sativus (Cucumber), Lemon peel, Merquet 3330, ETD 20-20 polymer, Bacopa monneri (Brahmi), Orange, Propylene glycol, Sodium chloride, Lavender fragrance, Neo potassium sorbate, ethylene diamine tetra acetic acid.