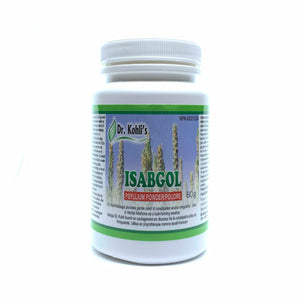 Dr Kohli's Isabgol provides gentle relief of constipation.
Isabgol also known as Psyllium husk is derived from the seeds of the plant Plantago ovata. The plant has long and narrow leaves which contains roughly 70% soluble fibre and 30% insoluble fiber. The fiber present in Isabgol causes the stool to soften and expand, thereby improving bowel movement. According to various health reports, hygroscopic properties of Isabgol help in reducing cholesterol from blood. It forms a thin layer in the intestines that prevents the absorption of cholesterol from food and efficiently helps in lowering cholesterol.
Suggested Use :
Children (6 to 12 years )Take 2-4 scoops (2-4 gm) and adults (13 yrs and over) take 4-8 scoops (4-8 gm) 1-3 times daily. Take with warm water or liquid (milk, fruit juice, etc).  Effects observed 12- 24 hours after the first dose and may take 2-3 days. For each gram of psyllium mix 30ml of warm liquid. Stir briskly and drink immediately. Take 2 hours before or after taking other medication. 
NPN : 80021534 
120 gm