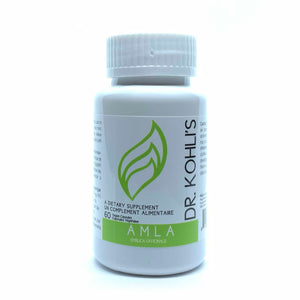 Amlaki also known as 
Indian gooseberry, traditionally used in Ayurvedic Medicine as rejuvenating and digestive tonic to help relieve symptoms such as heartburn, indigestion and hyperacidity. 
Amla protects cells against free radical damage and provides excellent antioxidant protection. Amla is considered highly nutritious and could be an important dietary source of vitamin C, amino acids, and minerals.
Ingredients: Each capsules contains Amla (Phyllanthus embilica) fruit extract 200 mg (4:1,QCE 800 mg)
60 Vegan Capsules
Recommended Dose : Adults 2 capsules 2-3 times per day 
Caution : Consult a health care practitioner prior to use if you are pregnant or breast feeding. 
NPN: 80048163