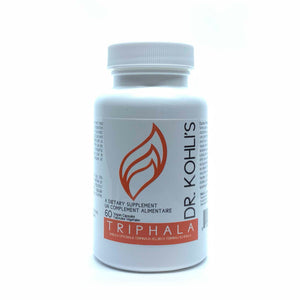 Dr. Kohli' Triphala Extract capsules are a digestive tonic. It helps to relieve symptoms such as heartburn and indigestion. Triphala is traditionally used in Ayurvedic Medicine for the relief of occasional constipation, colic pain and flatulence.
Triphala in India is used by Ayurvedic practitioners for a wide variety of ailments such as strengthening the immune system, promoting oral health, and treating fatigue and gastric distress.
Medicinal Ingredients (per dose unit): Triphala Extract (4:1) (Amalaki + Haritaki + Bibhitaki) 300mg

60 Vegan Capsules
Recommended Dose: Adults: (For Digestion): 1 capsule 2 time(s) per day. (As Laxative): 1 capsule 3 times per day. Take 2 hours before or after taking other medications or natural health products.
Caution :
When used as a laxative, allow at least 6 to 12 hours for effect to occur and discontinue use after effect; for occasional use only and consult a health care practitioner for use beyond 7 days. Consult a health care practitioner prior to use if you are pregnant or breastfeeding; if you have abdominal pain, nausea,
fever or vomiting.