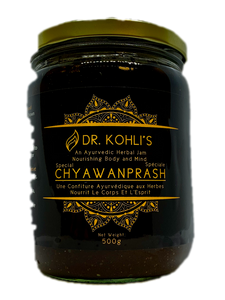 Dr Kohli's  Chyawanprash  is a classic ayurvedic  herbal jam prepared in BC, Canada from over dozen super concentrated nutrients rich herbal extracts, fruits, honey, oil, clarified butter (ghee) and minerals. It's traditionally prescribed in Ayurveda as a super food to replenish depleted reserve of antioxidants, minerals, vitamins in the body, to boost immunity, preserve strength, stamina and vitality.
Ingredients: Indian gooseberry, Blueberry, Brown sugar, Clarified butter,  Sesame oil,  Punarva, Liquorice root, Brahmi, Aswagandha, Zinger, Haritaki, Tulsi, Arjuna, Giloy, Blackpeper, Gokhsura, Bhui amla, Long pepper, Cinnamon.
Suggested Use: Take one heaping teaspoon twice daily with milk or warm water.
Precautions: Avoid giving Chyawanprash to children below age of 3 and anyone who is diabetic or allergic to sesame oil.