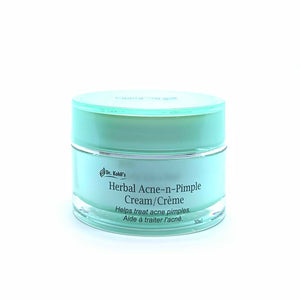 Dr. Kohli's Herbal Acne-n-Pimple Cream is for symptomatic relief and management of acne. The herbal formulation helps to correct the imbalance of skin functions and build a strong defence against acne causing bacteria. 
Start seeing results without the use of harsh chemicals in just 3 days! Powerful enough to kill bacteria, yet gentle enough to be used as a daily moisturizer for acne prone or oily skin. Safe to use under make up.
Directions : Apply cream liberally to affected areas 1 to 3 times daily. Consult a health care practitioner if symptoms persist or worsen. Do not use if pregnant or allergic to listed ingredients.
Ingredients :
Aqua, Extracts of: Arctium lappa (Burdock Root), Aloe barbadensis (Aloe Vera) leaf, Hamamelis virginiana (Witch Hazel), Hypericum perforatum (St. John's Wort), Matricaria camomilla (Chamomile) flower, Glycyrrhiza glabra (Licorice) root, Azadirachta indica (Neem); Mineral Oil, Rosmarinus officinalis (Rosemary), Melaleuca alternifolia (Tea Tree), Cetyl alcohol, Stearic acid, Vit E (Tocopherol), Stearyl alcohol, Isopropyl palmitate, Cetearyl alcohol, Cetereth-20, Propylene glycol, Prunus amygoalus dulcis (Sweet Almond) oil, Glycol monostearate S/E, Phenoxy ethanol, Caprylyl glycol, Simmondsia chinensis (Jojoba) seed oil.
Parabens and Pesticide Free.

Natural, Not tested on animals. Vegan.

 30 ml
NPN: 80080732
Tips to prevent acne:

Change your pillowcase weekly
Stay hydrated
Wash your face frequently
Avoid dairy
Manage stress